Board of Directors and Staff
Return to About Us

Dr. Robert Harris, President
     Robert Harris graduated from Howard University in 1982. He joined the Army Dental Corp in 1982 where he was awarded the Expert Field Medical Badge. In 1987, Dr. Harris joined a leading practice management consulting firm and became one of their top dental consultants. Dr. Harris came to Bloomfield CT in 1992 where he founded Smile America Dental Center. Dr. Bob, as his patients call him, is on the Board of Community Health Services in Hartford and provides free oral screenings at health events.
Kim Radda, Vice President
   Kim Radda is the Director of Research Administration for the Institute of Community Research, as well as the Co-Chair for the Statewide Older Adult Oral Health Consortium. For the past several years she has been conducting research focused on the oral health of older adults in our communities.  She "looks forward to being part of an organization that is passioinate about [addressing oral health] and to assist in advocating for and creating change in this arena."
 Sofia Dumansky, Treasurer
  Sofia Dumansky is the owner of TDG Financial, LLC and President of the Hartford non-profit Maidan United. Sofia has participated in a number of COHI events in the past year. She stated "There's no better feeling in the world than knowing that something you have done will help someone else, or has greatly benefitted them."
Howard I. Mark, DMD, Founding President
  Howie's leadership in organizing COHI resulted in CT's first Early Childhood Caries Symposium in 1999. Under his leadership, COHI made major contributions to advocacy efforts that had positive outcomes for oral health for underserved children and families. Howie, is an oral and maxillofacial surgeon, retired from teaching at the University of Connecticut School of Dental Medicine. He is a member and has received recognition from the American Dental Association, CT State Dental Association, Pierre Fauchard Academy, the American Assoc. of Oral and Maxillofacial Surgeons and the Yankee Dental Congress for his outstanding service and numerous contributions to oral health.
  Keri Discepolo, DDS, MPH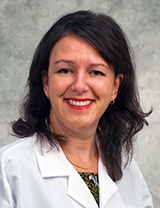 Dr. Keri Discepolo is a pediatric dental specialist and a diplomate of the American Board of Pediatric Dentistry. She completed a pediatric dentistry residency at Yale-New Haven Children's Hospital, where she remained as a clinical instructor for nearly seven years. Discepolo has since served as an assistant professor and clinical educator at the University of Connecticut School of Dental Medicine, as well as being the Dental Director of the Connecticut Children's Medical Center. Her interests are in infant and adolescent oral health interventions, with a focus in hospital dentistry. She holds a D.D.S. (doctor of dental surgery) from the New York University College of Dentistry and a Master of Public Health from Columbia University.
Douglas Larson
   Doug was a member of the professional staff that opened the first central Connecticut Whole Foods Market in West Hartford.  He retired as Principal Personnel Officer for the State of Connecticut Department of Children & Families.  Doug has a Master's Degree in Organizational Behavior and a Bachelor's Degree in Economics.  He is fluent in Swedish. 
 Geralynn McGee
   Geralynn McGee is the Policy Advocate at Greater Hartford Legal Aid. She represents the interests of people with low income at the state legislature, with administrative agencies and in community and advocacy coalitions, task forces, councils and other arenas. Geralynn started her career with Greater Hartford Legal Aid as a Oral Health Policy fellow; an opportunity designed to create a leader in oral health policy. She received her Bachelor of Science in Human Development and Family Studies from the University of North Carolina at Greensboro in 2006 and earned her J.D. at the University of Connecticut School of Law in 2015.
 Jesse White-Frese', MA, LPC
  Jesse is an experienced leader with skills in program development and management, budget management, public policy advocacy experience and supervisory skills.  She is the Executive Director of the Connecticut Association of School Based Health Centers, Inc.
Our Staff
Mary Moran Boudreau, Executive Director
    Mary is a registered dental hygienist, and who holds a Master of Business Administration degree from the University of Bridgeport. With fifteen years of clinical practice, followed by many years of experience as a clinical educator, advocate and administrator, Boudreau brings a depth of experience to the position. She was the executive director of the Connecticut Dental Hygienists' Association and has served as adjunct faculty at the University of Bridgeport. She has also held positions at Scherer Laboratories, Colgate Oral Pharmaceuticals, and other oral health companies.                           
Phone: 860.246.2644 ext 201  Email:  maryb@ctoralhealth.org